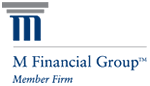 At ViaForte, we keep good company, for your benefit. ViaForte is a member of M Financial Group.
M Financial Group™ is one of the nation's premier groups of independent financial services firms. It was founded on the principle that "off the shelf" insurance products do not best meet the needs of affluent individuals. The client base of M member firms represent extraordinary premium volume, mortality and persistency trends as well as higher than average policy face amounts. This, coupled with M's buying power, translates into the ability to work closely with major insurance carriers to create innovative and proprietary products designed for wealth preservation.
Working with an M member firm provides the assurance of working with professionals whose interests are aligned with those of their clients and who can provide truly customized approaches for specific client needs.
ViaForte is pleased to be aligned with M Financial Group as a member firm. We are one of only four M member firms in the state of Minnesota. We appreciate the kind of access, clarity and transparency we are able to offer our clients through our affiliation with M. It gives us the peace of mind that we are providing both a high quality and a transparent solution for our clients' individual situation.
For important information related to M Securities, refer to the M Securities' Client Relationship Summary (Form CRS) by navigating to https://mfin.com/m-securities.